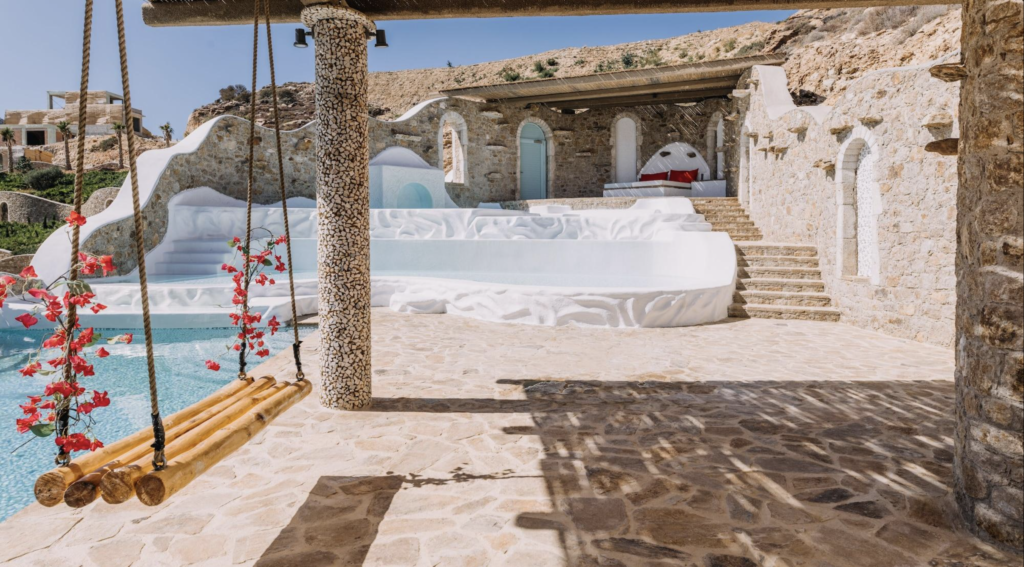 Calilo Greece is the epitome of a picturesque hotel, offering a unique ambiance and architecture that is frankly unrivaled in the Cyclades. The hotel opened in 2019 and is set on about 1,000 acres of protected land about 12 miles away from the Ios's main town of Chora. The hotel has all the wants and needs for an unforgettable stay, from endless walking trails, six miles of relaxing beaches, wellness and spa, grand pools, and an array of suites set on a rugged landscape that intertwines with the island's natural terrain. More information here.
Since its opening, the hotel has had tremendous success on social media, bringing about much interest and guests. After staying at Calilo it was obvious why it's had so much success. The architecture of the hotel melds with the rocky surrounding nature, keeping true to the Greek island vibes. The hotel has a total of 30 suites, with some located closer to the beachfront and others further higher up as if they were carved out of the island's natural rock. The suites are designed with fantastic finishes of marble and render a natural bridge between the interior and exterior of the room for a pure Mediterranean experience.
My wife and I went for our honeymoon and splurged on the 'Passage to Love' suite. It's a one- bedroom suite that has views of the mountains on one end and of the beach on the other. What's unique about this suite is an almost 8-meter water walkway that leads to a cave pool! If that wasn't enough, there's an outdoor pool, an outdoor shower, and an outdoor double swing bed set against a waterfall. I have to say that the suite offers an ideal setting for honeymooners and would highly recommend it to anyone looking for a once-in-a-lifetime experience to visit calilo greece.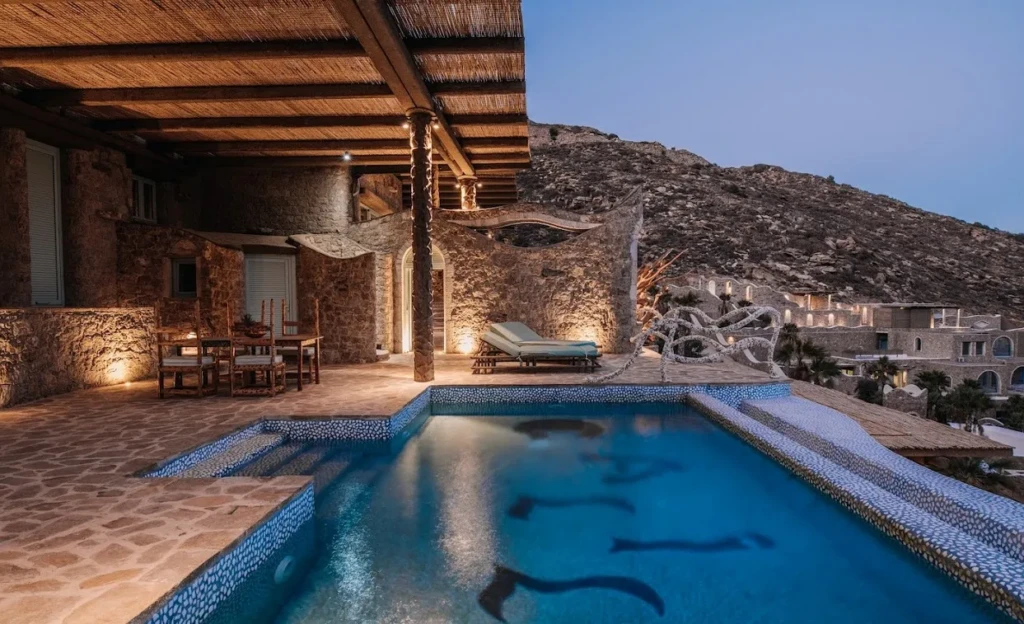 A honeymoon is like a blue lagoon; divinely beautiful, with a mimicry of all heaven in its deeps, blinding sweet in the sun, and almost intolerably comfortable in the moon. Honeymoon Suite of Calilo Greece is the ideal choice to celebrate love. Located on the hillside of hotel, with 63m2, with a 180m2 terrace, Honeymoon Suite is furnished with custom-made furniture and carefully decorated with more than 120.000 pieces of marble.
The Heart Pool One-Bedroom suite is named after its unique feature, a heart shaped pool, and consists of a 77 square meter / 829 square ft. bedroom which overlooks the beach of Papas. The suite features one king sized bed with en suite marble bathroom with a deep soaking bath and shower. It is a perfect choice for couples and honeymooners offering a very private outdoor space of 600 square meter / 5,500 square ft., which boasts its own outdoor marble swimming pool, an indoor marble pool with a double swinging bed as well as an Aqua Mesh Day Bed and a cave swinging bed over-water.
If I can give you one strong piece of advice, when you go away for that romantic weekend, whatever you do, take the Serenity suite. Carefully decorated with more than 110.000 pieces of marble and elegantly furnished with custom-made furniture, this 63m2 airy suite, features a 200m2 outdoor area with a private marble pool, a pond with waterfall and a small bridge that leads to a double thatched bed overlooking the Aegean. Immerse yourself in luxury with incredible views of Papas Beach that allow for relaxing and unique moments.
FOOD
In addition to architectural offerings of the hotel, the staff and service was impeccable for our stay. Every point of contact and every request of ours was met with a smile and professionalism. The food offerings, whether at the restaurant, poolside, or through room service, were delicious to say the least. Breakfast was our favorite due to us always ordering something specialized for breakfast, even though there is a cold buffet bar and an a la carte menu. The hotel even has their own organic garden where they freshly pick various produce for certain dishes. For all the cocktail lovers, there's a great list of fun drinks to try, especially during the sunset, it is a must!