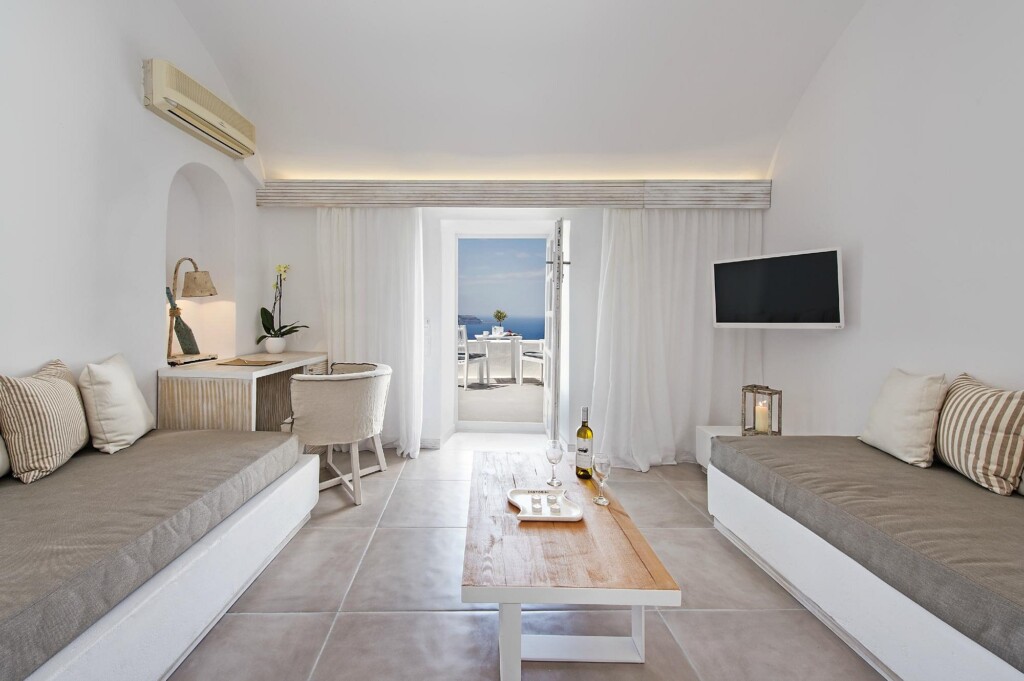 Savor all the best of Fira from Athina Luxury Suites. Just steps away from the restaurants and the cosmopolitan lifestyle of Santorini, their boutique hotel is the place to experience Greek culture. Yet, tucked away in a quiet, picturesque neighborhood, guests are wrapped in privacy and tranquility. Every suite offers dramatic views of the volcano, the glittering Aegean Sea and stunning sunsets.
Designed for guests who appreciate refined luxury, was fully renovated in 2020 and 2022. With a minimalist aesthetic and high-end furnishings, this is a new twist on traditional Greek architecture. World-class services, luxury amenities and the utmost in privacy and comfort make this your perfect escape from the everyday. This is Athina Luxury Suites.
Athina Luxury Suites is an exclusive boutique hotel featuring a total of 25 opulent accommodations. Each suite level provides its own unique set of luxury amenities, but all are designed for discerning guests looking for a perfect combination of serenity and adventure.
Imagine embarking on your new life together by exchanging vows while looking out over the endless sea.
Their expert wedding planner can assist in planning your dream ceremony and reception.
Whether you are interested in a chic civil ceremony or an elaborate traditional service, their wedding planners work with the most sought-after vendors in Santorini to organize your ideal wedding. From vow renewals to symbolic services, your event will be flawless, unforgettable and uniquely you.
If you are as lucky as we were, in their incredible pool bar, you will make amazing friends from all over the world.
Their bar is designed for relaxing and unwinding while taking in the expansive view of the caldera.
Watch the sun drop into the sea as you sip a glass of Assyrtiko, the refreshing white wine that embodies the soul of Santorini. Or, linger over the layers of honey and spice flavors in a glass of Vinsanto as you relive the adventures of the day.
No matter your palette, their collection of wine and cocktails has been curated to both enhance your meal and indulge in on their own. Do not miss their amazing gastronomy too!
Perched high above the water and snuggled, its restaurant combines breathtaking views with an incredible menu to satisfy any palate. At Esperisma, they continually strive towards culinary innovation and creativity to offer their guests an unforgettable gastronomic experience.
At Esperisma, they believe that their menu is rivaled only by the setting. The Greek Isles have long been known as some of the most beautiful places on earth, and Santorini is the jewel of the Aegean Sea. When in Santorini, a visit to Esperisma is more than just a meal—it is the opportunity to partake in an unforgettable culinary affair in an amazing world.
I stayed at 25, the Black Rock Honeymoon Suite and loved it. Sip a glass of wine, lounge in your heated Jacuzzi and watch the sun set into the ocean from your private balcony while gazing out over the volcano.