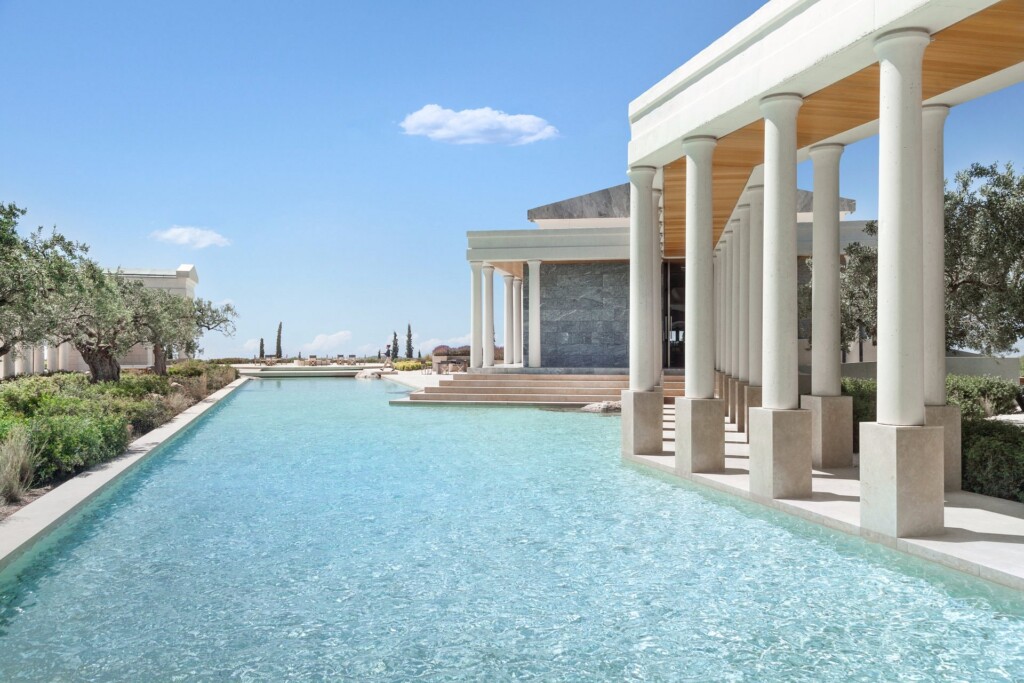 A luxury 38-suite resort, an Aman Spa and a number of Aman Villas, Amanzoe draws its name from the Sanskrit-derived word for 'peace' and zoe, the Greek word for 'life. 
My wife and I stayed at the Amanzoe for four nights and didn't want to leave. There isn't anything that wasn't amazing. The service was impeccable. All staff members knew our names, remembered our preferences, and made us feel welcome and at home. They all had great local tips and tricks and really made the trip much more enjoyable thanks for their friendliness. It happened to be my birthday and they treated me like royalty the whole trip.
All restaurants on property are top notch. The Japanese restaurant was surprisingly delicious. I still dream about the mushrooms in peanut sauce, but we didn't have a bit of anything that wasn't decadent and fresh while on the property. I believe the breakfast is one of the best I've ever had, with everything prepared from local produce.
The hotel itself is stunning, with each vantage point more beautiful than the next. The room was one of our favorite ever, with a private lounge pool, beautiful patio outdoor perfect for afternoon naps, and the most amazing shower with a skylight. We loved the local delicacies in the mini bar and had a hard time leaving the beautiful suite to enjoy the surrounding areas!
Lastly, there's a lot to do an discover. We did a bicycle tour of local areas, the hotel set up a boat excursion to a nearby island for a beautiful walk and dinner, and there are ruins and lots of history nearby.
We loved the pool area. So comfortable and great food – although this is a the one place that service was a tad slow. Overall, we had a truly lovely time here and Clint it as one of our top experiences to date.