Paris, the city of Love, doesn't really need much of an introduction, does it? It's universally acknowledged to be the most romantic place on Earth, and it's the world's cultural center, replete with brilliant roadside cafes, art shows, fashion shows, and other cultural activities that never cease. However, to really enjoy Paris in all its romantic splendor, you need to stay at a boutique five-star hotel. Below, we've compiled a list of some of the most expensive and luxurious Five star hotels from which you can truly enjoy the City of Light in all its glory.

1. Four Seasons Hotel George V Paris / Check Prices!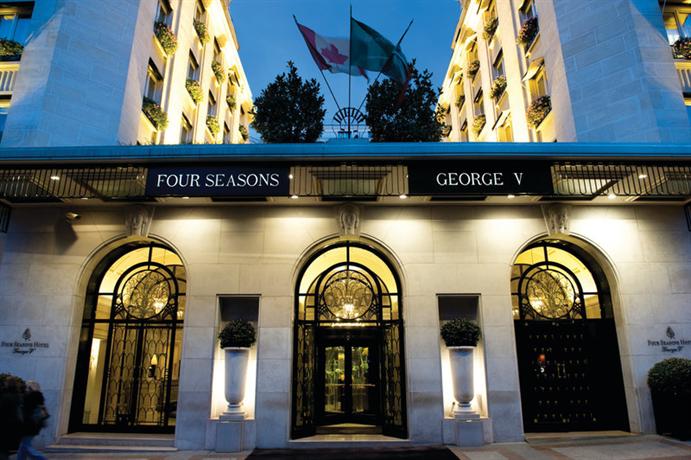 The Paris Four Seasons hotel was originally established in 1928 to honor George V. Originally, the hotel bore a distinctly Art Deco aesthetic, though recent renovations favored a more modernist look. It is perhaps the most extravagant and opulent hotel in all of Paris, with the appearance and visage of a Palace, vast sprawled out hallways and rooms, and gastronomic food that simply doesn't cease to delight the senses. It also features some of the most charming flower displays and arrangements made by the hotel's Florist. It's located amidst the golden triangle of Paris, snug between the Champs-Elysées and Alma-Marceau. This entire neighborhood is always buzzing with high art, culture, and life. The hotel is also much revered in the city because of its rich history and heritage. As already mentioned, it was created in an Art Deco style, however over the years they've been auctioned off to go for a a pared down look. Now one can only see echoes of its past, though sometimes that is enough. Even the simplest of the rooms are all luxurious. Some of the rooms feature heavy patterned wallpapers with densely patterned bedspreads, however most of the rooms are minimalist in aesthetic.
2. Hotel Shangri-La Paris / Check Prices!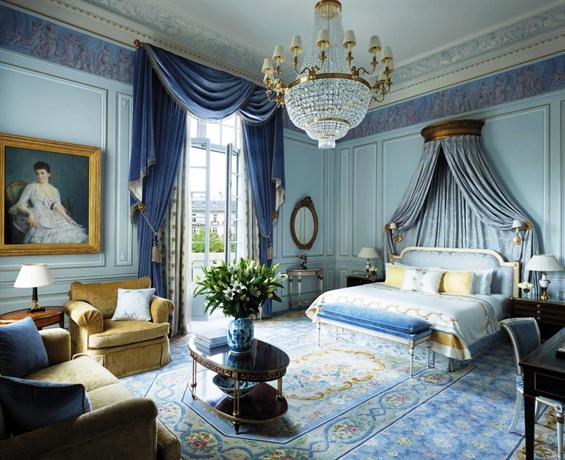 This luxury five star hotel is located so close to the bank of the river Seine that you feel like you can almost reach out and touch it. When you look out the window, you can see the Eiffel Tower standing tall in all its glory. A true pleasure for a sybarite, this hotel gives you a glimpse into the aristocratic and elitist past of France with its over-indulgence in luxury and sensory overload. The hotel features a wedding-cake shaped facade, and several salons that have been recreated into what they looked like in the days gone by. The work and effort clearly shows as the minutest of details have been taken care of.
3. The Peninsula Paris / Check Prices!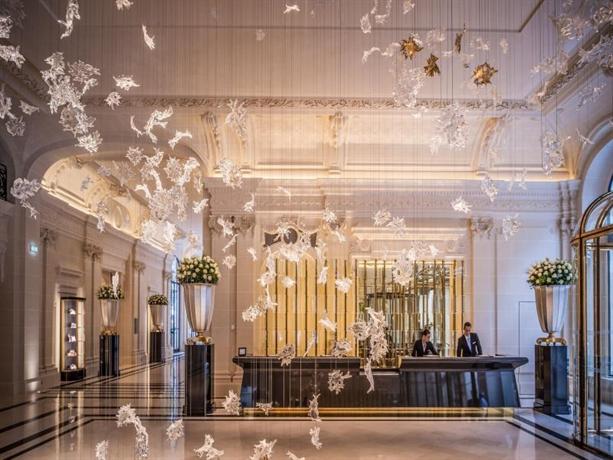 This is a typically extravagant and luxurious boutique five star hotel, made in a Parisian style but with modern amenities such as complementary WiFi, large screen LED TVs, etc. The suites are a pleasantly strange hybrid of traditional details rendered in a modernist style. The bathrooms feature marble flooring, with dark wooden cabinets and fixtures. If you're into a bit of history, this is the hotel where the Paris Peace Accords were signed, thus putting an end to the Vietnam War. It is also quite well connected with a metro station close by, and sites such as Champs-Élysées and the Arc de Triomphe just walking distance away. To top it off, all guests can avail of up to three hours of complementary chauffeur service to take them around Paris. After a long and tedious day exploring the city, you can return to their charming restaurants — LiLi, or L'Oiseau Blanc. The former of these gives you a taste of lovely Cantonese dishes, whereas the other features traditional Parisian dishes along with a stunning view of the Eiffel Tower.
4. Hotel Le Bristol / Check Prices!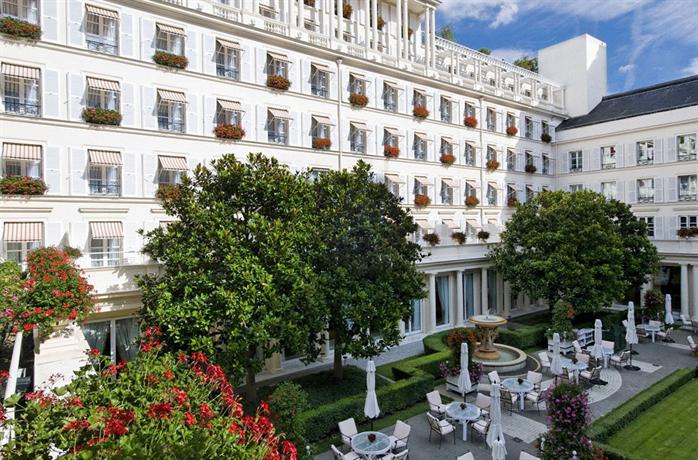 This hotel was established back in 1925, and it thankfully prioritizes heritage and aesthetic over contemporary designs. It is also famous for having hosted such celebrities as Charlie Chaplin and Marilyn Monroe. It's also the home to a rooftop swimming pool from which you can look over the entire city lit up at night. You can also go and get yourself a nice spa therapy if you're stressed, and if you have children you can drop them off to play at the kid's club. The five star hotel is built with a grand and luxurious limestone facade which overlooks the rue du Faubourg Saint-Honoré. The interiors of the hotel and the rooms feature a light pink aesthetic which imbues the boutique hotel with a vibrant aura. As such the general aura of the hotel is definitely feminine, and they even use upholstery in some rooms that is a blend of deep green and pink. In fact, Le Bristol is one of six hotels in all of Paris which has been afforded the status of 'Palace' which is a step above five star status. The crowning glory of this hotel is its 3 Michelin starred restaurant named Epicure, which mostly features french and Parisian dishes.
5. Hotel Plaza Athenee / Check Prices!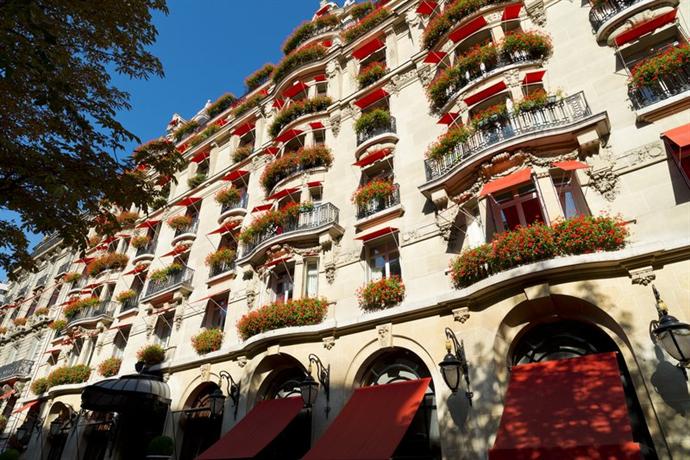 Hotel Plaza Athenee is legitimately what Parisian dreams are made of. It is a luxurious and charming hotel with ornate chandeliers hanging over dining halls, tinkling ever so gently against the wind, and courtyards covered in a variety of foliage and flora. The lobby of the hotel features some ornate flower decorations atop silver conical surfaces. The hotel also features a lovely courtyard that is converted into a winter rollerskating wonderland. As for the rooms, some of them are designed completely in neutral beige and yellow shades, whereas others feature a heavy palette with a lot of purples and chromatic shades. Other than the classy and charming aesthetic, the hotel also features 5 brilliant restaurants, the most popular one being Le Relais Plaza, which has been inspired and fashioned along the lines of Paris circa 1920s. The hotel also offers concierge and chauffeur service, but because of the hotel's prime location transportation is hardly necessary. It is merely a few minutes walk from Eiffel Tower, Champs-Élysées and the Louvre. In addition to being a location perfect for tourists, the hotel is also located in a place that's full of stores by big names like Armani, Dior, Chanel, and Vuitton.
6. Mandarin Oriental / Check Prices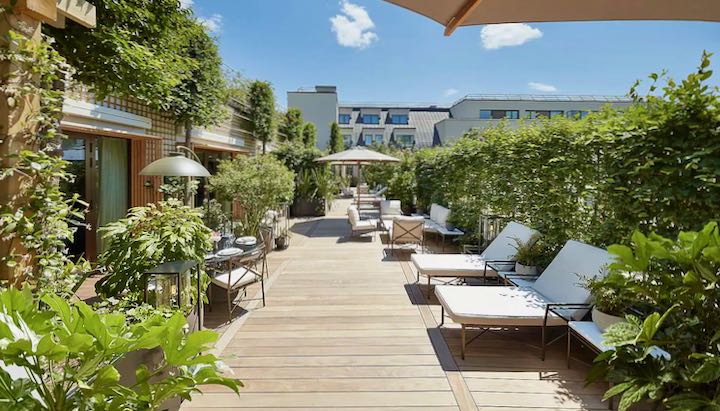 Family-friendly luxury in the heart of the city. Contemporary decor, terrace bar, elegant indoor pool and spa. There are special amenities and activities for kids, and the Penthouse Suite has three bedrooms, two terraces, and a gym. Great central location that's walking distance from Place Vendome, The Louvre Museum, and Tuileries Gardens.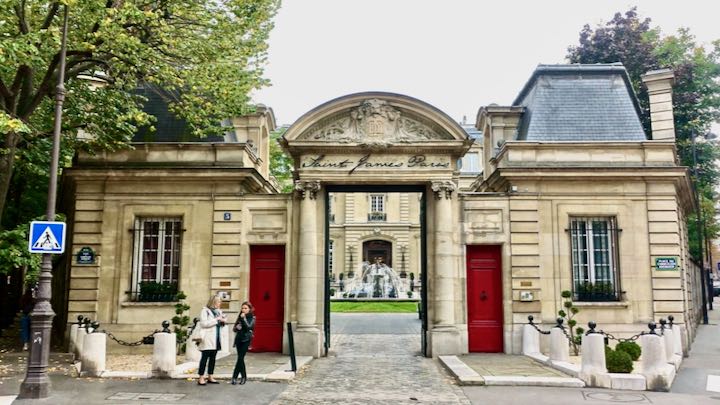 19th-century neoclassical chateau-hotel in a quiet, residential neighborhood. Striking decor, magnificent garden, spa, library bar, excellent terraced restaurant. In addition to rooms and suites, the Saint James also offers two private 3-story villas. Its quiet residential location is away from the action, but very near the Port Dauphine metro for easy access to the city sights.
8. Grand Powers / Check Prices
Stylish, boutique hotel with an all-day café/cocktail bar and a nourishing spa. The refreshed 1928 hotel offers family and pet-friendly rooms with marble bathrooms and elegant furnishings, most with Eiffel Tower views. Wonderful location just a block from Champs-Elysées, surrounded by high-end shopping, and only a 10-minute walk to the Arc de Triomphe.
9. Maison Souquet / Check Prices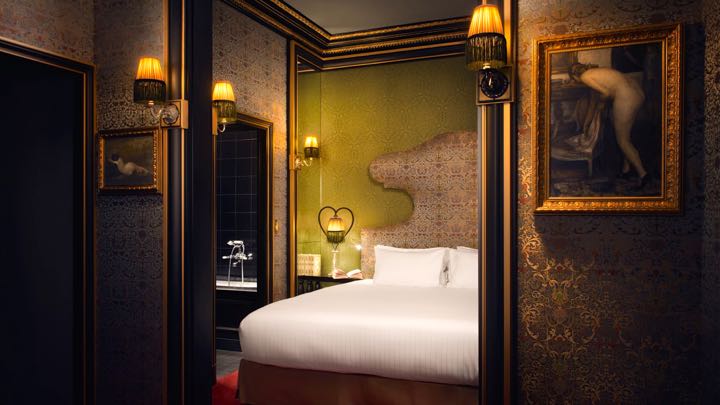 Opulent Parisian townhouse next door to the Moulin Rouge. Luxurious Belle Époque decor, personalized butler service, Hermes toiletries, gorgeous grotto pool and spa. Intimate salons (formerly bardello rooms) are sumptuously done up in red velvet and feature a speakeasy-like cocktail bar. Located in up-and-coming South Pigalle, near Montmartre and the Blanche metro station.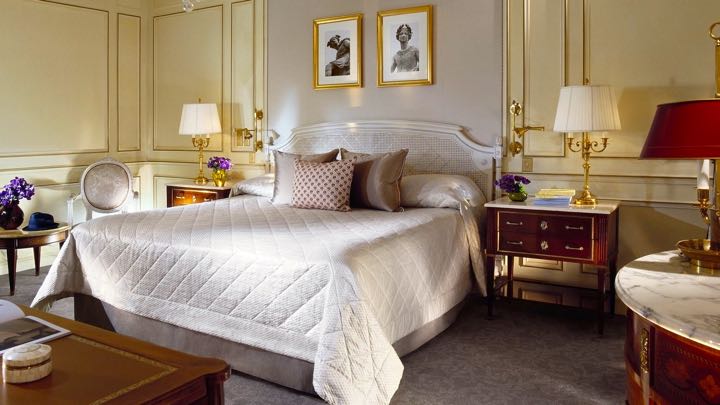 Luxury palace hotel near Paris' most popular tourist sites. Louis XVI-style decor with whimsical touches, award-winning restaurants, nightly live jazz in the hotel bar. The Belle Etoile Suite offers breathtaking 360-degree views from the rooftop terrace. Centrally located across from the Tuileries Garden, an easy walk from the Louvre and the Place de la Concorde.