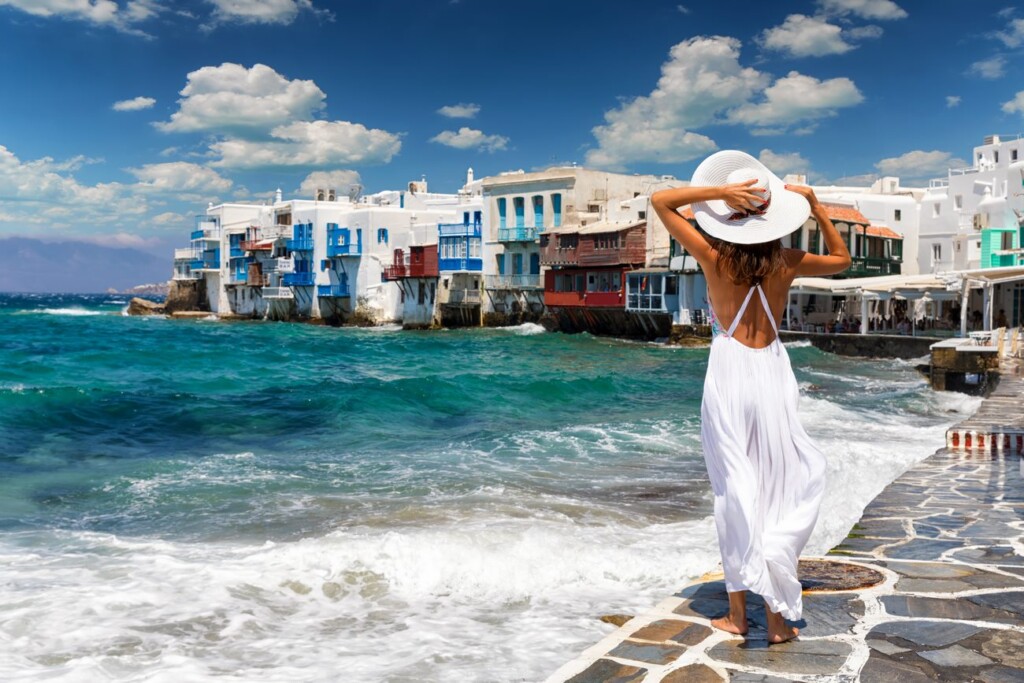 Mykonos island is the most popular Greek Island in the Aegean Sea is all about energy and attracts a diverse and upscale crowd that thrives on its stylish nightlife. During the day some privacy can be had in the more secluded north beaches, but the south beaches are all party.
Mykonos is the Mecca to clubbers in Greece! Some say it is the world's adult playground. Mykonos has something for everyone. It has gorgeous beaches for families, gays, honeymooners, upper crust, die-hard clubbers and just about everyone under the sun. It has natural beauty and character of its own, sunsets that one cannot forget for life, heady night-life and tranquil spas all rolled into one!
Mykonos by day:
Paradise Beach is the place to spend your day. People visiting Mykonos party non-stop hence one wakes up late and after a brunch goes to Paradise beach where the day parties can be compared to spring break.
• The Tropicana Beach Bar is one of the most known bars globally and the parties there are awesome. There's no better place to be in the afternoon than Tropicana Beach Bar. If you order from them they wont charge you for the sun beds or umbrellas!!! People visit the Paradise beach early afternoon for some swimming, relaxing and the all-important power-napping. The beach offers limited recreational activities- jet skis, tubing and water skiing. At some point in the later afternoon, the Tropicana Beach Bar – #1 beach club of Mykonos– starts to make the scene interesting.
It doesn't take long for the party to crank into high gear. People jump up to dance on the bar, others jiggy in the sand and water and beer baths are a very common thing. It's what Paradise Beach is all about- partying loud and hard , so keep the kids away. The party continues until about sunset.
• The Sunrise Bar- Paradise Beach. The Sunrise Bar at the far end of the beach tries to compete with this scene but nothing can beat the Tropicana even in mid season.
Mykonos by sunset:

• Little Venice is the place to be for the best Mykonian Sunsets. Go to the Little Venice area a little early and reserve your best place and watch the magnificent Windmills bathing in golden light. You can have dinner at the Famous Nikos taverna at the town centre- not expensive and really good food and if you are lucky you will see petros the Pelican right in the middle of your dinner strolling around the Nikos tavern.
• A classier way to spend sunset is at the Caprice Bar. Located in the Venice section of Mykonos. Expensive but offers a great view to the sunset.
• A large, mostly mellow sunset/post-sunset crowd also gathers next door on the waterside tables at Gallaraki.
Mykonos at NIGHT – BARS AND NIGHTCLUBS: The never ending Partying Begins; But goes on forever. The evening begins around 11:00 and it would be nice to start at the Skandinavian Bar and Disco. Skandianavian Bar takes up an entire block and is comprised of two tiny open-air service bars, an elevated outdoor patio and a thumping disco. Cheap drinks and just about every shot imaginable makes this a haven of uninhibited fun. Stay outside for people-watching, bond with the bartenders inside for some serious drinking fun and head to the disco for sweat-soaked dancing.
Semeli: After getting your first dose at the Skandinavian Bar, Semeli is a good choice. Excellent crowd, groovy music, decently priced drinks and a unending party.
Mykonos Bar: Back up by the Caprice Bar (away from the port), authentic Greek music and dancing is played between dance sets at Mykonos Bar
Hard Rock Café: Mykonos also has a Hard Rock Cafe. It's far outside of town although shuttle buses depart every half-hour at the end of the port. The bar itself is a high-priced poolside outdoor dance club but it does have an awesome go-kart course out the back door of the hotel. It serves beers, plays techno and has a very challenging track.
The bars shut down at about 4 a.m. Clubs stay open until 6 on weekends. After 6:00 head down to the ferry dock to the bar that never closes. It is unofficially called the Port Bar (because it's at the port) and some refer to it as The Yacht Club, but it really has no name. It does, however, have great pizza – The bar is also very popular among gay men.
Dining in Mykonos:
Mykonos is a town with taverns located side-by-side, it offers too many choices for food. Seafood and classic Greek dishes are specialities and some restaurants specialize in Italian food.
The easiest way to find a taverna is to check the menu and then see how many tables are taken. The best place for authentic Greek food is the large and ever-popular Nikos Tavern. Just in from the harbor, it's has daily specials (Kleftiko, fish etc), seafood and pasta and Greek dishes, each dish priced appox at 10-15 Euros.
Mid-town is Kostas, which always has a crowd, and for good reason. Prices are 7-10 Euros and items like the fried anchovies are fantastic. Kostas is much cheaper than Nikos and have really large portions.
Please note, Restaurants charge a Euro "cover charge" to sit down (this includes silverware and bread) but tavernas by the water – especially along the harbor – bump this up to 4/5 Euros. These prices are supposed to be posted on the menu; if not, ask in advance. If you refuse the bread this wont be charged. Even water is chargeable, so if you do not want to be surprised ask for the items that are served and keep only what you want so you don't end up paying for something you do not want.

Mykonos Town: A visit to Mykonos town is, undoubtedly, one of the best things to do. Mykonos town is an excellent example of Venetian influences, and one can see the legacy in the form of beautiful and charming buildings such as Panagia Paraportiani church. Panagia Paraportiani, is a breathtaking white church that you must have seen in many postcards and books .
The town of Mykonos also has the popular 16th century Venetian windmills, and strolling by 'Little Venice' the charming district where one can admire the beautifully constructed Venetian houses. When the sun sets, Little Venice becomes magical and very surreal.
Ano Mera Town: Ano Mera town (a 12 minute drive from Mykonos town). It is a small charming village where you can explore the beautiful landmarks such as the Monastery of Panagia Tourliani. The narrow alleys and cafenias are great for a laid back afternoon.
Island of Delos: Interested in Greek archaeological sites, then the island of Delos, located west of Mykonos, is a must visit. It is a UNESCO World Heritage Site and home to a myriad of ancient landmarks.Delos, located a mile away from Mykonos, is easily reached by ferry boat from Mykonos Harbor and the whole trip takes just under twenty minutes. The ferries leave between 8:00 a.m.- 10:00 a.m and Return between 12:00 p.m. to 2:00 p.m.
Some of the most popular landmarks there include the Delos Synagogue, the Doric Temple of Isis, the Minoan Fountain and the Temple of Delians. Also, most of the many of the artifacts found at the archaeological site here can be seen on display at the Archaeological Museum of Delos. The Site is CLOSED On MONDAYS
Shopping in Mykonos:
The Little Venice district in Mykonos town is home to many lovely shops selling all kinds of crafts, textiles and local art. For a more upscale shopping experience, Matogianni Street is home to many designer boutiques and high end fine jewelry shops.
Beaches of Mykonos:

Beaches North of Mykonos Town: If you are looking for a more relaxed beach atmosphere, the beaches north of Mykonos town offer some of the quieter beaches in the island.
Panormos Beach, just an 11 minute drive (3.5 miles).
Agios Sostis, just a 12 minute drive (4 miles).
Beaches East of Mykonos Town:
Kalafati Beach: If you are looking to enjoy water sports during your vacation in Mykonos, Kalafati Beach is one of the best places in the island that offers facilities for jet-skiing, windsurfing and more. Those based in Mykonos town, Kalafati Beach is easily reached by car in just 12 minutes.
Beaches South of Mykonos Town: Three of the most popular beaches south of Mykonos town are located within 3 miles and they are easily reached by bus or taxi ride
Platys Yialos Beach, just a 9 minute drive (3 miles)
Ornos Beach, just a 7 minute drive (2 miles)
Psarou Beach, just an 8 minute drive (2.5 miles)
Other Beaches like Elia, Paradise and Super Paradise are not Family Beaches but more for those looking at uninhibited fun!
Paradise Beach: Paradise Beach is the best party beach in Mykonos and one only sees people between the age of 18-35 there. It has a pair of restaurants, amazing grainy sand, a few small thatched trees providing shade and topless and clothed bathers stretched out on sun beds. There's no better place to be in the afternoon than Tropicana Beach Bar.
Super Paradise Beach: Best accessible by water taxi, Super Paradise has some party, although the real action is at Paradise Beach. Contrary to the name, it is not super to Paradise. It is definitely the most popular beach destination among gays.
Elia Beach: is again a notch up than super Paradise, much expensive and great for the nudists.